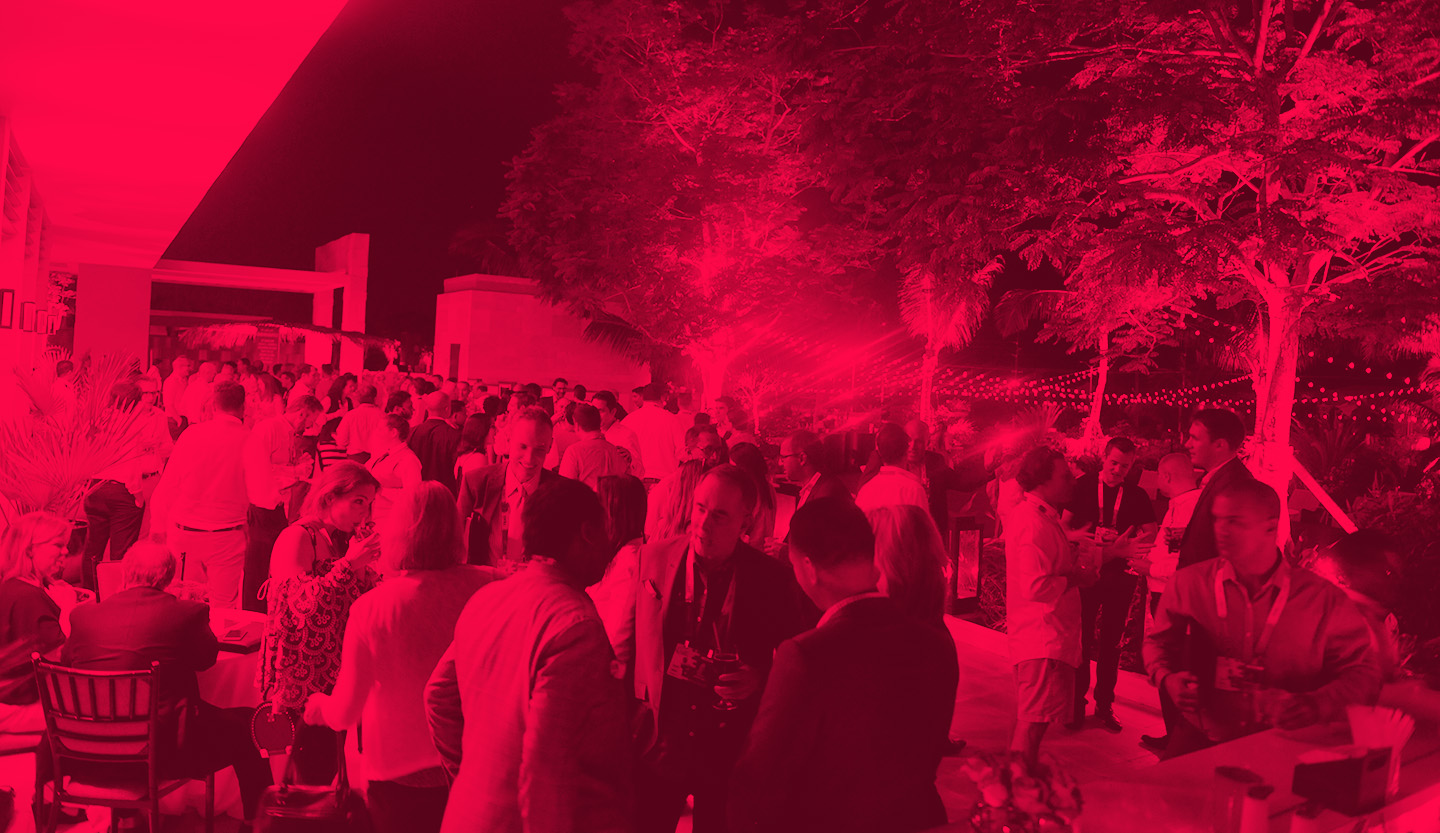 PAST AGENDA
We're pleased to share our CAIS19  agenda and provide a look back at our recent conference, held in February 2019. The CAIS20 agenda will be available in September 2019.
WELCOME
Feb 6 2019 DAY 1
Feb 7 2019 DAY 2
Feb 8 2019
WELCOME TO CAIS19
4:00

4:00 - 7:00

Registration

Kimpton Seafire Resort + Spa Lobby

5:00

5:00 - 7:00

Wine Hour

Kimpton Seafire Resort + Spa Lobby
7:00

7:00 - 8:15 | Day 1

Breakfast & Networking

8:15

8:15 - 8:25 | Day 1

Introduction by Dart Enterprises

Chris Duggan, Director of the Kenneth B. Dart Foundation & Vice President, Dart Enterprises Ltd.

8:25

8:25 - 8:35 | Day 1

Address from the Premier of the Cayman Islands

Hon. Alden McLaughlin Jr MBE, JP, MLA

Minister for Human Resources, Immigration & Community Affairs

8:35

8:35 - 8:55 | Day 1

Chairman's Welcome

Anthony Cowell, Partner, KPMG

8:55

8:55 - 9:15 | Day 1

Entering the Digital Vortex in an Uncertain World

Ian Bremmer, President & Founder, Eurasia Group

9:15

9:15 - 9:35 | Day 1

Tectonic Shifts & Insights from Antarctica

A keynote presentation from Extreme Expedition Medic and Research Scientist, Dr. Beth Healey

9:35

9:35 - 10:15 | Day 1

A Quantum Shift: Humans vs. Machines

From discretionary to algorithms, automation & big data
Identifying their long-term investment potential and risks
Striking a balance between humans and machines
Intensifying the search for talent
Creating a new role for pure fundamental analysis

Moderated by Jon Cohen, Partner KPMG

Dr. Mark Jackson, Scientific Lead & Business Development, Cambridge Quantum Computing

Michelle McCloskey, President, Man Group

Dr.Mike Chen, Senior Portfolio Manager and Lead ML Researcher, PanAgora Asset Management

Christine Qi, Co-Founder & Partner, Domeyard LP

10:15

10:15 - 10:55 | Day 1

The March of Artificial Intelligence & Alternative Data

A reality check of innovation, the rise of alternative data and pace of industry change
Embedding artificial intelligence in investment decisions
Coping with cyber security, data mining and data protection risks
Ensuring that traditional managers adapt
Enabling regulators to keep apace with technology

Moderated by Emma Walden, CAIS Presenter & Correspondent

Joseph Simonian, Director of Quantitative Research, Natixis Investment Managers
Philip Watson, Head of Innovation, Citibank

Michael Weinberg, CIO, MOV37 & Protege Partners

10:55

10:55 - 11:15 | Day 1

Networking & Coffee

11:15

11:15 - 11:35 | Day 1

The Decentralized Economy

Bettina Warburg, Co-Founder & Managing Partner, Animal Ventures
Say hello to the decentralized economy — Blockchain, AI, and IoT are changing everything. In this lucid explainer of complex (and confusing) technologies, Bettina Warburg describes the often-overlooked principals of Blockchain Technology, where it's been and where it's going, and how it will eventually eliminate the need for centralized institutions like banks or governments to facilitate and optimize trade, evolving age-old models of commerce, supply chain, and finance into something far more interesting: a distributed, transparent, autonomous system for exchanging
value.

11:35

11:35 - 12:15 | Day 1

Bits & Blocks: Mining for Alpha

Moderated by Ran Neu-Ner, Founder and CEO, Onchain Capital & Host, CNBC CryptoTrader

Travis Kling, Founder & CIO, Ikigai Asset Management

Scott Kupor, Managing Partner, Andreessen Horowitz

Tom Serres, Co-Founder, Animal Ventures

12:55

12:55 - 2:00 | Day 1

Lunch

2:00

2:00 - 2:25 | Day 1

Presentation by Jessica Jackley

Jessica Jackley, Co-Founder of Kiva

2:25

2:25 - 3:00 | Day 1

Thinking Like an Allocator: The Future of the Real

Navigating a digital future for institutional allocators
Dealing with the impact of allocation decisions and the evolution of due diligence
Using innovation as a tool for more responsible investing
Complying with data ethics and the responsibility and mandate for professional bodies such as CAIA

Moderated by Bill Kelly, CEO, Chartered Alternative Investment Analyst Association

Erik Carleton, Director of Pension Investments, Textron

Robert Cultraro, CIO, Hydro One

Jason Rothenberg, Real Estate Investment Officer, State of Wisconsin Investment Board

3:00

3:00 - 3:35 | Day 1

Ready Player One: The Rise of the Robot

Understanding the power of the robotics revolution
Identifying its potential impact on the investment value chain
Acting on the forces accelerating the use of robots
Dealing with areas where robots will displace/complement humans
Creating a productive human-robot interface

Moderated by Claire Griffin, Director, KPMG

Dr. Magnus Egerstedt, Professor, Georgia Institute of Technology

Jianbo Lu, Technical Expert & Head of Robotics and Intelligent Vehicles, Ford Motor Company
Steve Toebes, Co-Founder & Chief Product Officer, NextShift Robotics

3:35

3:35 - 4:10 | Day 1

Hunger Games: The Hunt for Alpha

Staying in tune with the dynamics of an ageing bull market
Gaining new insights into fat-tail risk and its management
Discovering sources of uncorrelated absolute returns
Minimising behavioural biases

Moderated by Tarun Ramadorai, Professor of Economics, Imperial College, London
Teresa Barger, CEO & Co CIO, Cartica Management LLC

Andrew Dabinett, CEO Lyxor Asset Management Inc.

Nancy Davis, Founder, Quadratic Capital Management

Fahmi Quadir, Founder & CIO, Safkhet Capital

4:10

4:10 - 4:20 | Day 1

Ice Cream Break & Networking

4:20

4:20 - 4:40 | Day 1

The Future of the Deal

Daniel D'Aniello, Co-Founder, The Carlyle Group

4:40

4:40 - 5:15 | Day 1

Innovation Driving the Client Experience

Highlighting the core innovations in the works
The rise of artificial intelligence
Putting clients at the heart of the business
Encouraging product, process and business model innovations
Delivering better returns and client experience

Moderated by Professor Amin Rajan, CEO, CREATE Research

Peter Cherecwich, President, Corporate & Institutional Services, Northern Trust
Jeff Klein, Founding Partner, Aptitude Investment Management
Victoria Rock, Global Head of Alternatives, Legg Mason
James Waldinger, Founder & CEO, Artivest

5:15

5:15 - 5:50 | Day 1

The Impact Revolution

Identifying and overcoming the issues around definitions and their associated data
Understanding the changing demographics and investment implications
Implementing the philosophy of "doing-good, doing well"
Targeting specific strategies for delivering impact
Monitoring outcomes of responsible investing through attribution analysis

Moderated by Julia La Roche, Yahoo! Finance

Seth Blackman, Partner KPMG

Asha Mehta, Director Responsible Investing, Acadian Asset Management

Anna-Marie Wascher, Founder & CEO, Flat World Partners

5:55

5:55 - 6:55 | Day 1

A Special Performance by David Blaine

7:00

7:00 - 10:00 | Day 1

CAIS19° 81°, presented by the restaurants of Camana Bay

Dining and networking under the stars on The Crescent at Camana Bay.

Shuttle service from Kimpton Seafire Resort + Spa Ballroom Lobby Foyer from 7.00 pm.
7:00

7:00 - 8:10 | Day 2

Breakfast & Networking

8:10

8:10 - 8:15 | Day 2

Chairman's Reflections on Day 1

Anthony Cowell, Partner, KPMG

8:15

8:15 - 8:20 | Day 2

An Update from Cayman Finance

Jude Scott, CEO, Cayman Finance

8:20

8:20 - 8:45 | Day 2

Around the World with Mark Yusko

Mark Yusko, CEO & CIO, Morgan Creek Capital Management LLC

8:45

8:45 - 9:25 | Day 2

Preparing for a Turbulent Phase in the Global Economy

Assessing the impact of trade wars on investment portfolios
Anticipating the next move of the US Federal Reserve
Managing political risks in a debt-fuelled world
Capitalising on shifting asset class correlations
Turning volatility into opportunity

Moderated by Peter Smith, Editor, FTfm, Financial Times
Constance Hunter, Chief Economist, KPMG
Jim McCaughan, Executive, Asset Manager & Change Agent
Karsten Schröder, Executive Chairman & Portfolio Manager, Amplitude Capital
Dr. Avery Shenfeld, Managing Director & Chief Economist, CIBC

9:25

9:25 - 9:45 | Day 2

Business Innovation & Transformation

Eileen Murray, Co-CEO, Bridgewater Associates

Emma Walden, Presenter & CAIS Correspondent

9:45

9:45 - 10:25 | Day 2

Global, Digital, Millennial: An Investor's Perspective

Moderated by Phil Schmitt, President & CEO, Summerwood Capital

Tammer Kamel, Co-Founder & CEO, Quandl

Jim Keohane, President & CEO, Healthcare of Ontario Pension Plan (HOOPP)

Peter Pontikes, Executive Vice President, Alberta Investment Management Corp. (AIMCo)

10:25

10:25 - 10:45 | Day 2

Networking & Coffee

11:10

11:10 - 11:30 | Day 2

The Stampede is Coming: Digital Assets in a Global World

Andrew Schofield, Partner, KPMG

Dominic Williams, Founder & Chief Scientist, DFINITY

11:30

11:30 - 12:10 | Day 2

Accepting that Not All Emerging Markets Are Created Equal

Spotting value opportunities and value threats
Monitoring the shifting emphasis from growth to reform
Capitalising on the inclusion of China A-shares into MSCI EM index
Promoting the shift from momentum investing to buy-and-hold investing
Looking out for new opportunities in alternative investments

Moderated by Lachlan Cornwell, Director KPMG

Peter Fletcher, Managing Director, PHF Capital Inc.

Alexander Gorra, Co-Founder & Partner TRUXT Investimentos

Mark Roberts, CIO, Ironside Asset Advisors
Parag Saxena, Founding General Partner & CEO, New Silk Route Partners

12:10

12:10 - 12:50 | Day 2

Investing in a World of Geopolitical Uncertainty

Tackling the challenges created by the ever-rising volume of 'dry powder'
Investing long term in liquid products but like a pension fund
Using technology platforms to speed up the deal process
Accessing new opportunity sets via global networks
Expanding the bank of future prospects

Moderated by Rohitesh Dhawan, Global Macro Strategist, Eurasia Group
Cari Lodge, Managing Director, Commonfund Capital

Lord Malloch Brown, KCMG

Christopher Zook, Chairman CAZ Investments LP

12:50

12:50 - 1:50 | Day 2

Lunch

1:50

1:50 - 2:25 | Day 2

The Rise of Reinsurance

Moderated by Adrian Lynch, Managing Director, AON

Simon Burton, Greenlight Re

Alex Leman, Ironside

Senator Ben Nelson, Brooke Philips

Derek Stenson, Conyers Dill & Pearman

2:25

2:25 - 2:45 | Day 2

A Seafire Chat with Mark Foster

Hosted by Lord Michael Hastings

Mark Foster, Senior Vice President, IBM Global Business Services

2:45

2:45 - 3:25 | Day 2

Responsible Investing in Action

Scalability of responsible investing and impact
Monitoring how geopolitical risks are being priced in by markets
Putting financials and sustainability on an equal footing
Contributing towards healthier economies and vibrant societies

Moderated by Glenn Rockman, Partner, Adjuvant Capital

Andrew Farnum, Director, Bill & Melinda Gates Foundation

Giles Gunesekera, CEO, Global Impact Initiative

Inna Khidekel, Partner, Bridge Investment Group

Donald Raymond, Managing Partner & CIO, Alignvest Incorporation

3:25

3:25 - 3:35 | Day 2

Coffee Break & Networking

3:35

3:35 - 4:15 | Day 2

Philanthropy: A New Model for a New Age

Changing the dynamics of giving in a globalised world
Treating corporate citizenship as a new 'license to operate'
Blending economic and social development
Promoting better governance
Combining hearts and minds

Moderated by Lord Michael Hastings, Global Head of Citizenship, KPMG International

Daryl Brewster, CEO, Committee Encouraging Corporate Philanthropy (CECP)

Marisa Drew, CEO, Credit Suisse

Susan McIsaac, Managing Director, Strategic Philanthropy, RBC

Mike Penrose, Executive Director, UNICEF UK

4:15

4:15 - 4:55 | Day 2

A Seafire Chat with Fulwell 73

A discussion with one of the most innovative production companies on the current scene, London and Los Angeles based Fulwell 73, who have enjoyed commercial success and critical acclaim and are the recipients of Emmys, National Film Awards and Brit Awards for their work. The team have produced and directed multiple hours of television, film and music video and developed the Late Late Show with Ben Winston and the show's host James Corden and they directed the pilot of the internet sensation, Carpool Karaoke with James Corden and Mariah Carey.

Hosted by Emma Walden, CAIS Presenter & Correspondent

Joe Pearlman, Fulwell 73
Ben Turner, Co-Founder, Fulwell 73

5:00

5:00 - 6:00 | Day 2

A Seafire Chat with Natalie Portman