Bear Grylls shares four words for success during keynote address at CAIS20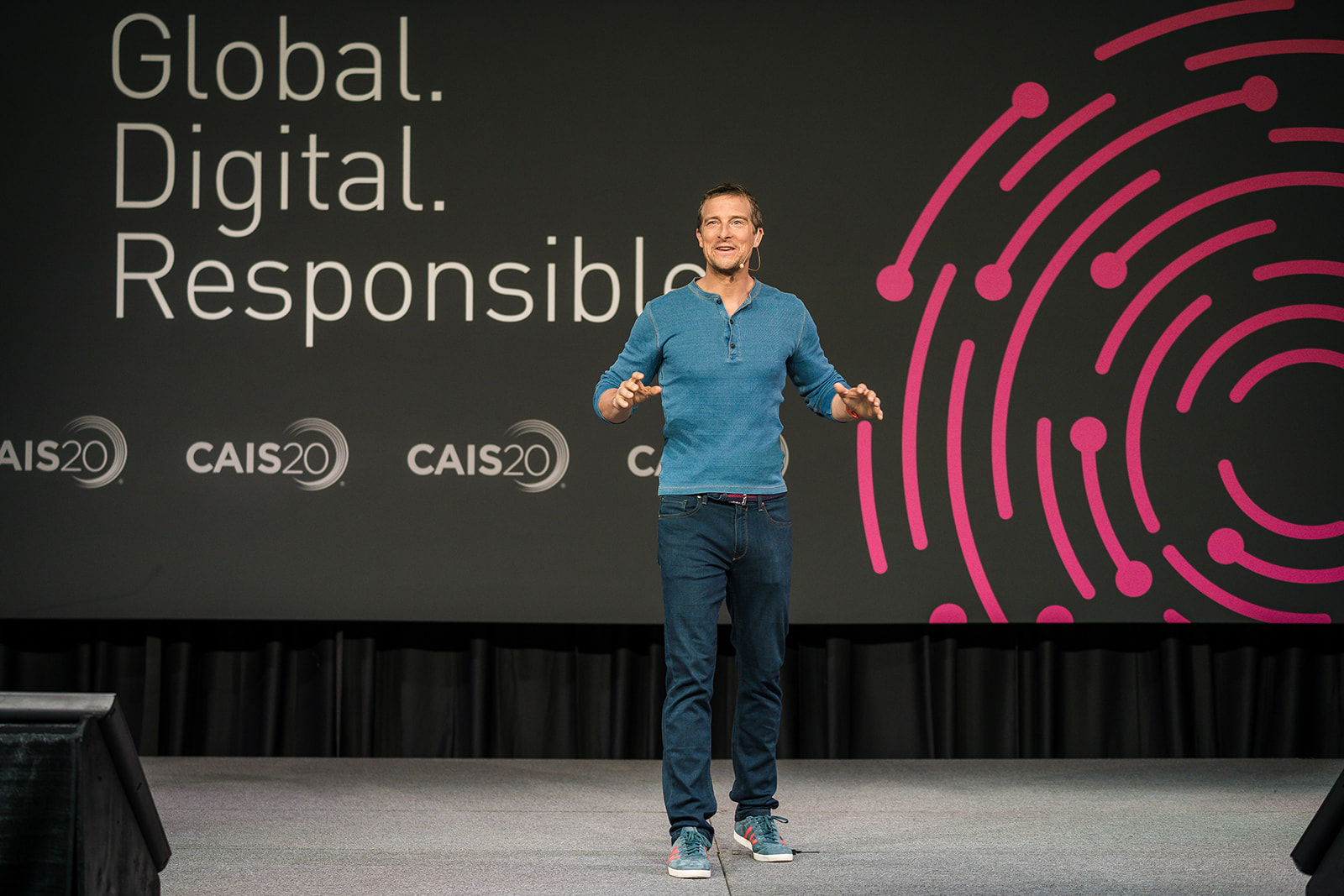 By Alan Markoff
Bear Grylls has faced danger many times, both as a former member of the British Army's Special Air Service and as a famous television adventurer in shows like "Man vs. Wild."
Although Grylls seem fearless, one of the things that makes him jittery is public speaking.
"The man standing in front of you is often full of nerves," he told the attendees of the 2020 Cayman Alternative Investment Summit — better known as CAIS20 — during his keynote address on 7 February at Kimpton Seafire Resort + Spa.
Speaking to hundreds of attendees at a conference is not in his comfort zone, but Grylls explained that he faces the challenge the same way he has faced other hurdles in his life: by drawing on what he has learned through experience around the concepts of four words that start with the letter "F."
"These are four words that have come to define much of my journey," he said.
Failure
When Grylls first tried to join the highly selective Special Air Service, the special forces unit of the British Army, he became full doubts soon after the training started.
"I was thinking, 'I'm not fast enough, not smart enough, not good enough,'" he said.
Sure enough, six months into the training — which typically has a fail rate of close to 90% — Grylls was out of the programme.
But he didn't give up and the second time he tried, he made it through with three other soldiers, two of whom — like him — had failed the first time.
"My failures have far outweighed my successes," he said. "But the failures have also made me. They've built resilience."
It was precisely the experience of failing to get into the Special Air Services on his first attempt that made his success on the second try possible.
"The first failure was the key," he said.

Fear
Fear is normal, Grylls said.
"Life's really scary sometimes," he said. "Whoever you are, life is going to test you at some point. How you react to the testing determines everything."
It isn't the talented and brilliant who are necessarily rewarded in life, but those who are persistent.
"Life rewards the doggedly determined," he said.
Grylls once sustained a severe back injury when his parachute did not fully open, resulting in a long hospital stay and an uncertain long-term prognosis. However, after he did recuperate, he continued to jump out of planes using a parachute, even though he felt fear every time. Throughout that experience and others, he has learned that the best way to face fear is to go right through it.
"Fears are just part of life," he said. "They are what make you real and relatable."

Fire
Not too long after he had recuperated from his back injuries, Grylls was part of an expedition to climb Mount Everest, the Earth's highest mountain.
As he neared the summit, Grylls found himself exhausted and suffering from the effects of high altitude. Part of him wanted to give up, but he found the "fire" inside of him to keep going.
"Nobody is really brilliant and brave all of the time," he said. "It's about being able to deliver in the big moments."
He recalled the words of his former Special Air Services commanding officer: "He said, 'The difference between ordinary and extraordinary is that little word extra,'" Grylls said. "Sometimes you have to give more when most people give up."
Grylls said there is fire in all of us and that it's always there.
"You just have to find it," he said.
Finding the fire, even it if is only a spark, can change everything, Grylls said.
"All of us in our lives face our own Everest," he said. "Everest is just a state of mind."
Faith
The last word on which Grylls has relied is "faith," and in his case, it's his Christian faith.
Respecting that different people find faith in different places, Grylls didn't speak at length about his faith, but said it gave him the foundation to persevere and never give up.
However, he did offer some advice that is often central to that espoused by various religions.
"Be grateful," he said. "Try to find humility."
He also urged kindness.
"A  little kindness changes us," he said. "Treasure those around you — your family and friends. The real wealth of all of our lives is found in our relationships."
This article originally appeared in the March 2020 print edition of Camana Bay Times with the headline "Bear Grylls has four words for success."
About the author
Alan Markoff has worked with Dart as the editor for Camana Bay Times for three years and has been writing professionally since 1997. Born and raised in Cleveland, Ohio, Alan graduated from the State University of New York at Albany with a degree in English, and first moved to the Cayman Islands in 1982. He has 16 years of experience in the real estate industry and previously worked as a journalist for Cayman Compass before joining Dart to relaunch the Camana Bay Times monthly newspaper. An avid baseball fan, Alan loves travelling but also schedules trips back home around catching a summer game or two with his home team, Cleveland Indians.