Bear Grylls to speak at CAIS20 about his new project, BecomingX
November 5, 2019 2:30 pm
|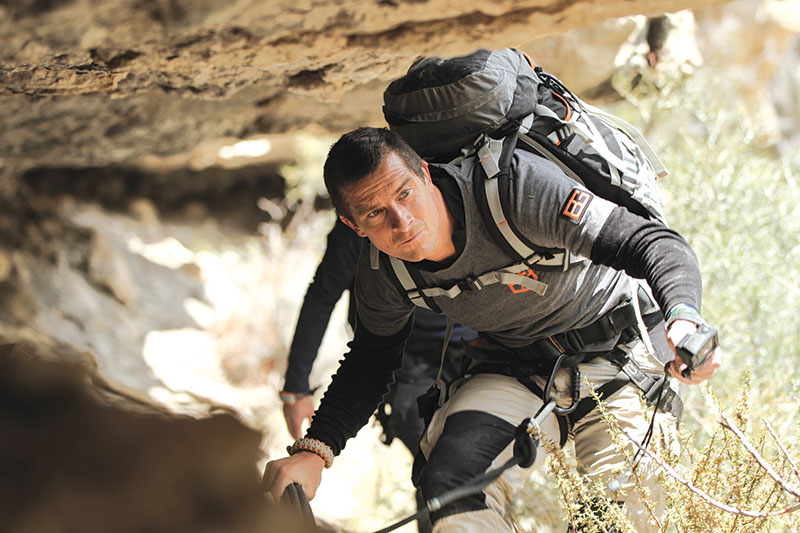 "You can't live someone else's expectations in life. It's a recipe for disaster."
Those are the words of Edward Michael Grylls, OBE, known better by the first name "Bear," one of the keynote speakers of the 2020 Cayman Alternative Investment Forum that will take place 6-7 February at Kimpton Seafire Resort + Spa.
The global adventurer and television host has lived his life by his own terms. One of the topics of his keynote address will be an educational initiative, of which he's a co-founder, called BecomingX. Once it is officially launched early next year, Grylls hopes BecomingX can help create a world where everyone can realise their own potential and not live to someone else's expectations.
Grylls got involved with BecomingX when he was interviewed as one of the case studies for the educational platform that looks at people across many demographics who have succeeded in life. After being interviewed and seeing what the project was about, Grylls asked to become involved, says the other BecomingX co-founder, Paul Gurney.
"We interviewed Bear as one of our very first interviewees and he stopped me afterwards and said, 'This is absolutely amazing and it can be so powerful all over the world – I really want to be part of this and to help give people the courage and skills to go out and succeed.'"
Grylls says he's looking forward to speaking at CAIS20 next February.
"It's such a great opportunity to speak to some of the most influential people in the finance world and to encourage their support of BecomingX," he says.
Life skills
BecomingX believes that one reason people are hindered in life is that modern education systems often don't teach them the skills required for success. Gurney says that when interviewing subjects for the BecomingX case studies, they all talk about what it's taken for them to get where they are.
"They're not talking about the algebra they learned in year 10 or about memorising the periodic table and things like that," Gurney says. "They're talking about things like leadership, things like courage, ambition, the failures they have learned from and about the resilience they have had to learn. The truth is we're not teaching those things in school."
Instead, Gurney says, societies approach education in an "almost mechanised" way.
"We're still very focused on acquiring knowledge," he says. "We're in an era in developed economies where information is available to most people. What we've heard consistently from teachers is that they recognise that there is a lot more needed to prepare young people for their future. They want broader education that actually teaches young people the values and skills needed to succeed and be happy in life."
BecomingX focuses on personal attributes such as ambition, determination and resilience, which Gurney believes are far better long-term predictors of success than academic grades.
"We think BecomingX has the potential to really revolutionise education by helping schools around the world to teach these critical life skills – and with engaging content and insights from some of the most inspiring and iconic people alive, we hope we can make this hugely exciting and relevant for young people"
Grylls knows from his own life experiences what it takes to realise potential.
"The most valuable lessons we learn in life often aren't learnt in a classroom," he says. "When we leave school, we realise that it's not all about academic grades and that life rewards the dreamers, the go-getters and the survivors. It's these attributes that I think are so important in helping people realise their potential."
Identifying success
Part of the mission of BecomingX is to demystify what it takes to succeed.
"Success means different things to different people," says Gurney. "For some people that might be climbing Everest or becoming the CEO of a company. But for other people it's getting a job they care about, supporting their families and being able to do the things that they love. That is a perfectly noble goal that we fully support."
BecomingX creates one-hour lessons that can supplement any school's curriculum. The lesson structure typically involves a short film introduced by Bear Grylls, followed by class discussions, key teaching concepts and engaging activities to help students learn by doing. BecomingX has the added benefit of being able to draw on stories and insights from people who have succeeded. Many of those people are globally known personalities, including film stars, Olympic gold medalists and other sports superstars, Nobel Peace Prize winners, astronauts and even past presidents.
"Some of these people are world-famous because they've achieved incredible things," says Gurney. "However, we're also really trying to showcase people who are largely unknown in the wider world, but who have done truly exceptional things. Some of the best films we've made are with people from very tough backgrounds —  formerly abused as kids or who grew up homeless — but then went onto do amazing things."
One of those people, Sabrina Cohen-Hatton, is a British firefighter, psychologist and writer who will appear on the BecomingX panel during the 2020 Cayman Alternative Investment Forum.
"At the age of 15, she was living on the streets in doorways and derelict buildings," says Gurney. "She tried her hardest to just get that very first step on the ladder, which was getting stable accommodation and some secure income. She eventually got a job part-time with the fire services, one of seven women out of about 1,400. We fast-forward 18 years and she's now the most senior-level firefighter in the country, she's got a PhD and is a published author. It's truly incredible."
By including a mix of people, some very famous and some just regular folks who have done very well in their lives, BecomingX demonstrates that with the right role models, teaching and opportunities, anyone can succeed in life.
"We're not about showcasing celebrities," Gurney says. "We're about showcasing what it takes to achieve incredible things. Anyone who watches our films can see somebody they can relate to, no matter where they are in life."
Hearing and seeing these stories helps demystify the notion of success.
"BecomingX helps people build the confidence and skills to succeed," Gurney says. "Having done much research on this, we really can explain what it takes to succeed — it is identifiable, codifiable and teachable."
Corporate buy-in
Gurney says BecomingX's core purpose is to help create a world where everyone can realise their potential.  Its business model enables it to release all of its films for free online as well as providing all of its education content and lessons to its charity, the BecomingX Foundation, to deliver for free in developing countries.
"This is so important to us," says Gurney, "If we are to see real and long-term changes in the world, we have to find sustainable models that can help everyone – no matter what their circumstances and opportunities."
Gurney says the goal is to get BecomingX films seen all over the world and to get its education content into as many schools as possible. Corporate sponsorships are a key.
"We'd like to work with some of the fantastic organisations that are are really supportive and passionate about education," he says. "We're hoping some companies will say, 'We really care about this too and we'll help fund BecomingX memberships for hundreds of schools.'"
Gurney has already picked up one important ally in KPMG Partner Anthony Cowell, who serves as the chairman of the CAIS20 editorial board, and also sits on the BecomingX Foundation trustee board.
"Tony has been absolutely instrumental in supporting us and we couldn't wish for a bigger advocate than him," Gurney says. "He's a key reason Bear, myself and the team are coming to Cayman Islands."
——–
A version of this article appears in print in the November 2019 edition of Camana Bay Times with the headline: Demystifying what it takes to succeed