CAIS 2018 – What We Heard, What We Saw and What We Learned
February 14, 2018 1:26 pm
|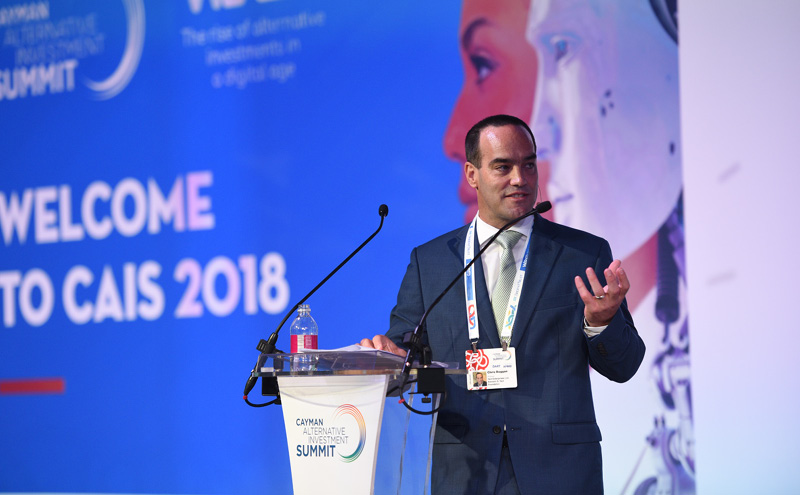 The 2018 Cayman Alternative Investment Summit (CAIS) brought together more than 500 leading thinkers and decision makers from across the alternative investment industry, including managers, investors, economists, academics, regulators and service providers, to the Kimpton Seafire Resort + Spa in the Cayman Islands. Through this year's theme, 'WIRED: The Rise of Alternative Investments in a Digital Age,' participants discussed and debated the emerging technologies poised to disrupt the alternative investment industry – from blockchain to virtual reality to artificial intelligence. Throughout the two-day event, participants were left with one overriding message – the financial services industry needs to adapt to the ever-changing technology landscape.
"Technology has changed the world, and it will continue to change the world at an unprecedented rate," said Chris Duggan, Director of CAIS and VP of Community Development for Dart Enterprises, in his opening address for the conference.
The signs of change are everywhere, from the advent of self-driving cars to the introduction of drone deliveries to the rise of 'smart' assistants like Alexa and Siri. Each of these technologies has far-ranging impacts on the way we behave and communicate with each other.
"Google is our brain, Facebook is our heart, and Amazon is our consumption engine," said Tony Cowell, Partner at KPMG Cayman Islands and Editorial Co-Chair for CAIS 2018.
With technology on everyone's minds, here are a few of the other highlights from the conference:
Adoption of crypto is still in its early stages
The event kicked off with a persuasive case for owning Bitcoin from Mark Yusko, CIO of Morgan Creek Capital Management. Yusko's keynote, complete with its own catch phrase, 'Bitcoin is big, really big,' argued: "We are only at the start of things with Bitcoin. Everyone has said it was a bubble but in fact all we have seen is a series of bubbles. This will not go away… It could become more important long term than stocks and bonds to investors."
To further prove his point, he offered some striking comparisons to highlight just how big the world of cryptocurrency has become. Bitcoin's market cap is now bigger than General Electric's, and Coinbase, an online trading platform for crypto assets, has more active users than Charles Schwab.
However, despite all the hype and crypto's potential to 'revolutionize money,' it appears CAIS attendees are not yet entirely convinced. According to an on-the-ground survey of nearly 100 attendees, less than a quarter (23%) currently own cryptocurrency. To benchmark the results, we posed the same question to the Twitter sphere via the CAIS Twitter account and the results were more balanced. Of the nearly 75 Twitter users who responded to our poll, 44% said they owned cryptocurrency, suggesting that adoption of crypto is only going to trend upwards.
Investors still don't know what to do with crypto
As compared to the percentage of attendees that currently own cryptocurrency, the number of attendees looking to buy crypto this year was slightly more bullish. Approximately 41% of attendees indicated they would buy crypto this year, with many commenting that they're waiting for Bitcoin to get slightly lower than its current price of about $8,800.
However, even more respondents (42%) were unsure of their plans to buy, sell or hold crypto this year, highlighting the uncertainty surrounding its value. This aligns with the more skeptical comments from our panelists, many of which noted that despite the growing demand for cryptocurrencies they are seeing from the younger generation of investors, cryptocurrencies remain a risky investment. Until there is more regulation and price stability, established banking institutions are unlikely to push their clients towards investing in crypto.
Market downturn expected in 2018
Attendees at CAIS 2018 also had another important theme on their mind: last week's market downturn.
The recent market volatility led speakers and attendees alike to wonder – has the bull market finally come to an end?
According to Daniel D'Aniello, a founder of The Carlyle Group, the fears are not to be overblown. His keynote speech, "The Dawn of a New Era in Private Equity," wrapped with the comforting words: "The world has not ended. The market will be back. Stay true."
While panelist Jim McCaughan, CEO of Principal Global Investors, largely agreed, stating that the next recession in the U.S. would be mild and 'at least three years out,' others weren't so sure. Fellow panelist and KPMG Chief Economist, Constance Hunter, believes the recession will be mild but could begin in mid-2018.
Our survey results were divided, though the majority fell into the 2018 camp. Sixty percent of respondents think we'll see the next market downturn in 2018, as compared to 21% who believe it'll come in 2019, 8% in 2020, and 10% who don't see it happening in the near term.
Adapting to technology is imperative
No matter what the market brings, there's one significant takeaway from CAIS 2018 that remains clear. In a world of increasingly advanced technology, "Customers will continue to demand an enhanced experience and, in order to survive, you'll need to deliver," said Andrew Schofield from KPMG.
Each technological revolution breeds new winners and losers. With the fourth industrial revolution now upon us, the winners of the digital age will be those that can best integrate technology into their businesses.