Eurasia Group President & Founder, Ian Bremmer joins CAIS Editorial Board
September 26, 2019 8:00 am
|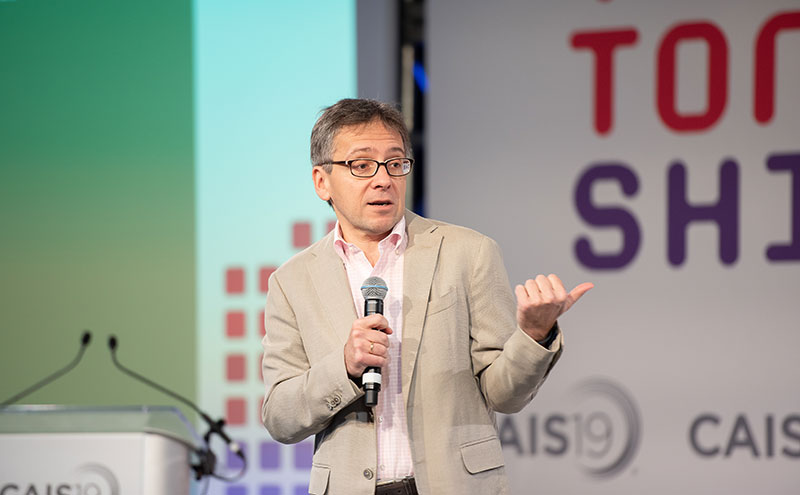 26 September 2019, Grand Cayman: The Cayman Alternative Investment Summit 2020 ("CAIS20") today announced the appointment of Ian Bremmer, President and Founder of Eurasia Group and GZERO Media, to the conference's editorial board. Bremmer will help to shape the agenda and speaker lineup around the 2020 conference theme: "Global. Digital. Responsible."
Bremmer is a political scientist who helps business leaders, policy makers, and the general public make sense of the world around them. He is president and founder of Eurasia Group, the world's leading political risk research and consulting firm, and GZERO Media, a company dedicated to providing intelligent and engaging coverage of international affairs. Bremmer is the author of 10 books, including the New York Times bestseller "Us vs Them: The Failure of Globalism" which examines the rise of populism across the world. He also serves as the Foreign Affairs Columnist and Editor at Large for Time magazine and teaches at Columbia University's School of International and Public Affairs.
"Through this year's 'Global. Digital. Responsible.' theme, we are continuing to expand the role CAIS plays in spearheading provocative conversations about the future of alternative investing," said Chris Duggan, CAIS Conference Chair and Vice President of Business Development at Dart. "We are excited to add Ian Bremmer to the CAIS20 Editorial Board as his expertise on applying geopolitical risks to financial markets will help to drive meaningful discussions on and off stage at CAIS."
Hosted by Dart Family Office, CAIS20 will take place at the Kimpton Seafire Resort + Spa in the Cayman Islands on February 6-7, 2020. The seventh-annual conference will convene more than 500 alternative investment managers, institutional investors, economists, policymakers and academics for keynote presentations and panel sessions that cover the latest themes influencing the alternative investing landscape, including globalization, geopolitical risk, artificial intelligence and trading, digitalization, climate, ESG and responsible investing.
"As one of the most influential forums in the alternative investment industry, I'm delighted to be joining the CAIS20 Editorial Board and returning again as a keynote speaker," said Ian Bremmer, Founder and President of Eurasia Group and GZERO Media. "At a time when societies are becoming more divided, CAIS20 provides a global platform for real debate on the future of alternative investing and the convergence of geopolitical risks. "
In addition to Bremmer, the CAIS20 Editorial Board includes Anthony Cowell, Partner & Head of Asset Management at KPMG (Cayman Islands); Nancy Davis, Managing Partner & CIO of Quadratic Capital Management;  Jackie Doak, President of Business Development at Dart; Bill Kelly, CEO of CAIA Association; Jeff Klein, co-Chief Investment Officer of AIMS Aptitude at Goldman Sachs; Christina Qi, Founding Partner of Domeyard LP; Amin Rajan, CEO of CREATE-Research; Victoria Rock, Managing Director & Head of Alternatives Product at Legg Mason; Phil Schmitt, President & CEO of Summerwood Group; Valerie Sill, President, CEO & CIO of Dupont Capital Management; and, Kareen Stangherlin, Founding Partner of Zelos Capital Ltd.
Joining members of the editorial board on the stage at CAIS20 are early confirmed speakers including Leda Braga, CEO of Systematica Investments; Peter Branner, CIO of APG Asset Management; Wences Casares, CEO of XAPO; Gerald Butts; Former Advisor to Prime Minister Justin Trudeau and Former President & CEO of World Wildlife Canada; Megan Greene, former Global Chief Economist at John Hancock Financial Services/Manulife Asset Management;  David McKay, CEO of RBC; Rachel Pether, Senior Advisor at the Sovereign Wealth Fund Institute; and,  John Studzinski, Managing Director and Vice Chairman of PIMCO.
Registration for CAIS20 is now open, with early bird prices available until December 31, 2019 at www.cais.ky. The event is free to attend for all qualified investors and media.
###
About the Cayman Alternative Investment Summit
The Cayman Alternative Investment Summit (CAIS) is an annual non-profit conference that convenes leading thinkers and decision makers from diverse segments of the global alternatives industry to discuss and debate the challenges and opportunities that will define the future of the industry. Hosted by Dart Family Office, CAIS is dedicated to supporting financial services both in the Cayman Islands and internationally. For more information, please visit www.cais.ky
About Dart Family Office
Based in the Cayman Islands, the Dart Family Office manages Ken Dart's global investment portfolio.  Dart's investments in Cayman range from real estate development, hospitality, retail, entertainment and finance. Guided by the vision of Ken Dart, Dart has developed more than $1.5 billion in mixed-use, residential, commercial, recreational, educational and hospitality properties throughout the Cayman Islands.
Media Contacts
Dart
Susanna de Saram
T: +1 345 325 0583
E: susanna.desaram@dart.ky
Prosek Partners
Kate Sylvester
T: +1 646 818 9127
E: ksylvester@prosek.com