Putting the Cayman in CAIS: Community events at CAIS20
February 27, 2020 10:08 am
|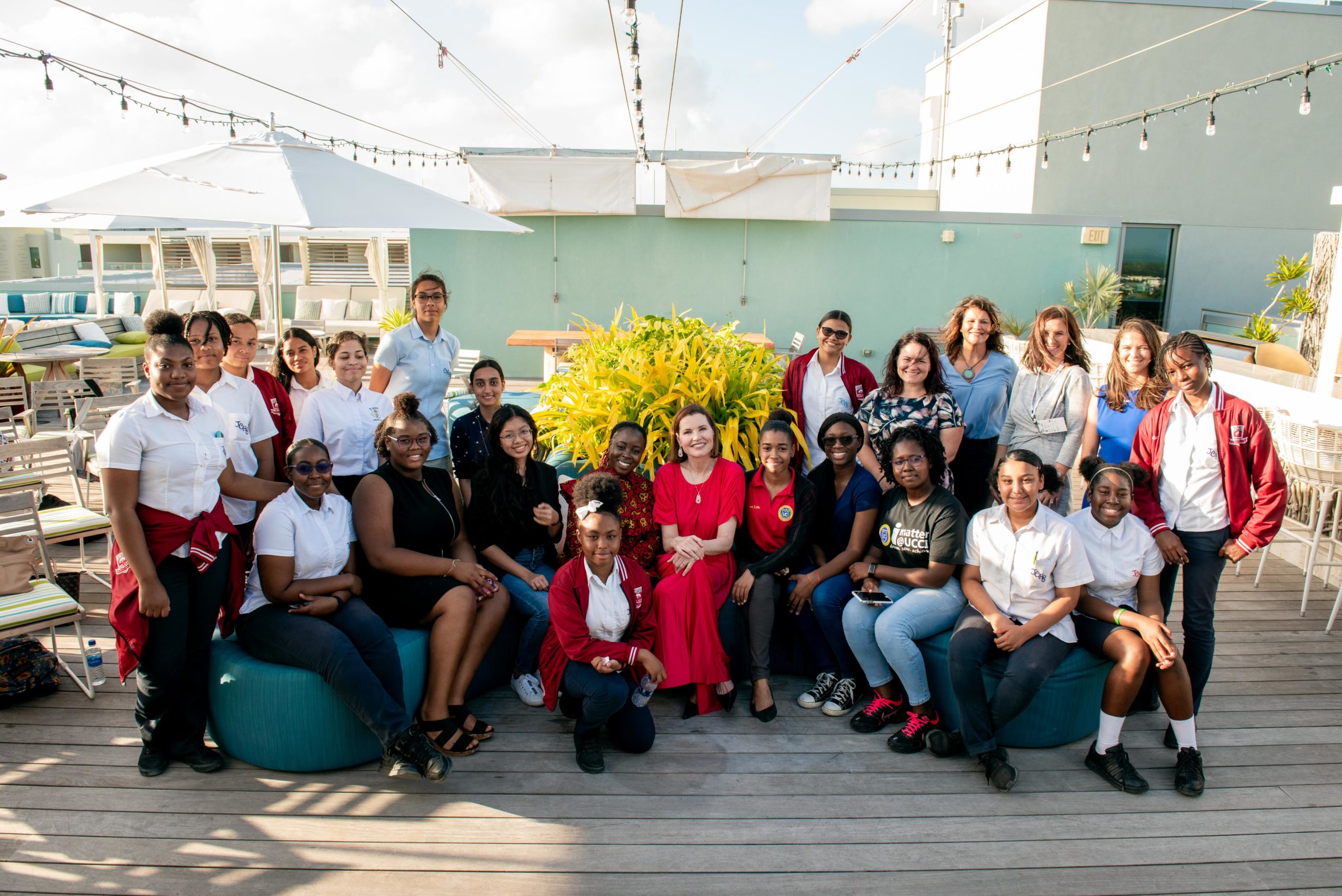 During this year's Cayman Alternative Investment Summit, several CAIS20 speakers took a break from the main stage to sit down with a different audience: high school students from across the island.
Each year during CAIS, Minds Inspired, a Dart initiative that encourages the exposure of STEM subjects among Cayman's youth, also helps organise programming beyond the main CAIS stage for the local Cayman community. As part of this programme, select speakers take part in additional events that stretch beyond the conference's regularly scheduled programming to educate and engage with the local Cayman community and advocate for a new generation of industry leaders.
Through CAIS20's community events, high-profile executives in professions ranging from robotics and philanthropy to advocacy dedicated their time to multiple events that occurred in tandem with CAIS20. These events convened more than 200 high school students from local Cayman schools as well as young women from GirlForce 100, a youth mentoring programme in the Cayman Islands, to afford these students the opportunity to hear from a diverse range of speakers who shared their insights and motivational stories.
Embracing, not fearing, robotics
Focusing on the "Digital." part of CAIS20's "Digital. Global. Responsible." theme, three of the world's top robotics innovators sat down at Camana Bay Cinema with students from Cayman's high schools, including approximately 100 students from St. Ignatius Catholic School, Cayman Prep and High School, Triple C School, Cayman International School and John Gray High School. Speakers painted a picture for students and mentors on the future of digitisation and the influence robotics and artificial intelligence will have on our world.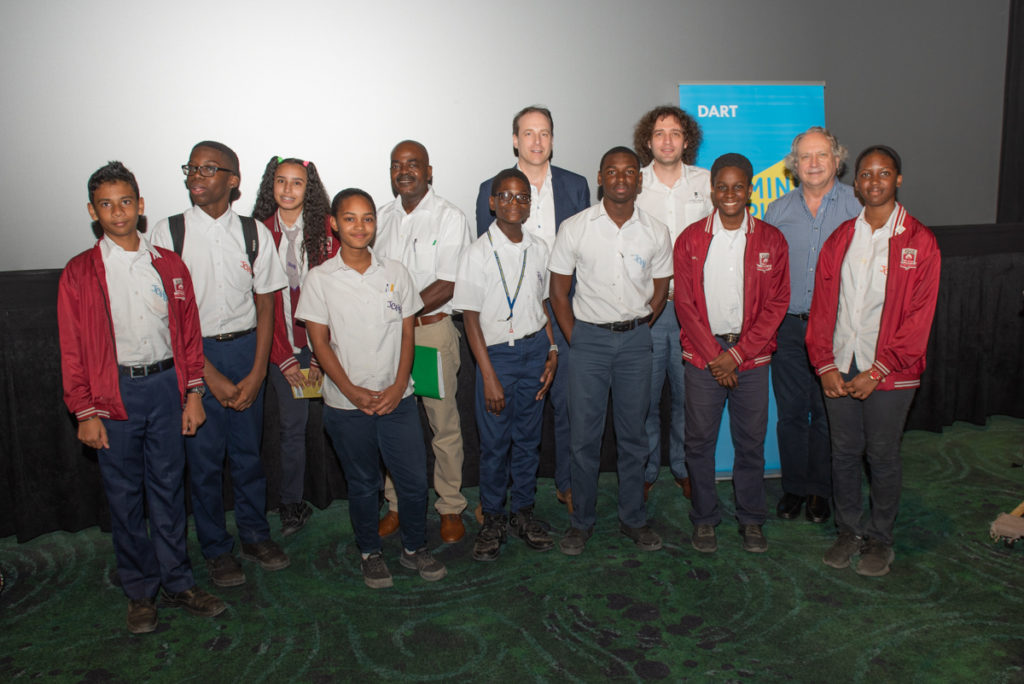 Students with speakers Rodney Brooks, Steve Toebes and Yaro Tenzer at Camana Bay Cinema
During the event, students heard from CAIS20 speakers Rodney Brooks, a professor of robotics at MIT and founder of seven robotics and AI companies, including the company that brought us the Roomba; Steve Toebes, Chief Robotics Officer of HDS Global who specialises in robotics product development; and, Yaro Tenzer, CEO and Co-Founder of RightHand Robotics who is an expert in robotic grasping.
"Attending the robotics event and hearing from the speakers was an eye-opening experience," said Adrian Phillips-Hernaez, a Year 11 student at Cayman Prep and High School who attended the event. Adrian is also a member of the 2019 Cayman Islands National Robotics Team, who recently travelled to Dubai to compete. "I learned about robotics within the working world and the steps I could take to turn my dream of becoming a robotics engineer into a reality."
While the digitisation conversations back on the conference mainstage focused mostly on risks and uncertainty, the conversation at Camana Bay Cinema encouraged this next generation of students not to fear these concerns, but to dive right in. The speakers' advice to the students? "Build stuff – some will work, some will not, but keep building anyway!"
Lessons in realising success from adventurer Bear Grylls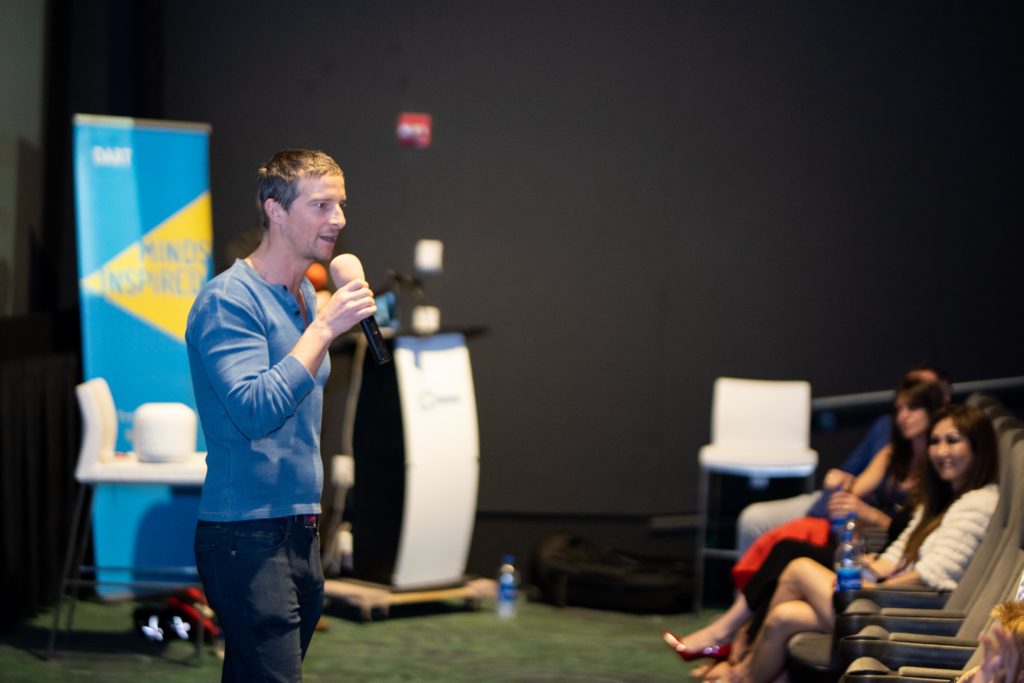 Beyond the robotics session, students also attended community events hosted by BecomingX, a nonprofit foundation which was co-founded by well-known adventurer Bear Grylls to motivate individuals to realise their potential at any point in life. The foundation, which was officially launched at CAIS20, works with some of the world's most inspirational and iconic people including world leaders, Nobel Peace Prize winners and more. BecomingX's goal is to help demystify what it really takes to be 'successful'.
In the first BecomingX session, Grylls, best known for his famous survivalist and adventure television series "Man vs. Wild," was joined by BecomingX CEO Paul Gurney in speaking to more than 200 local students on what it takes to be truly successful in life, drawing from his experience as an adventurer, motivational speaker, and former military serviceman.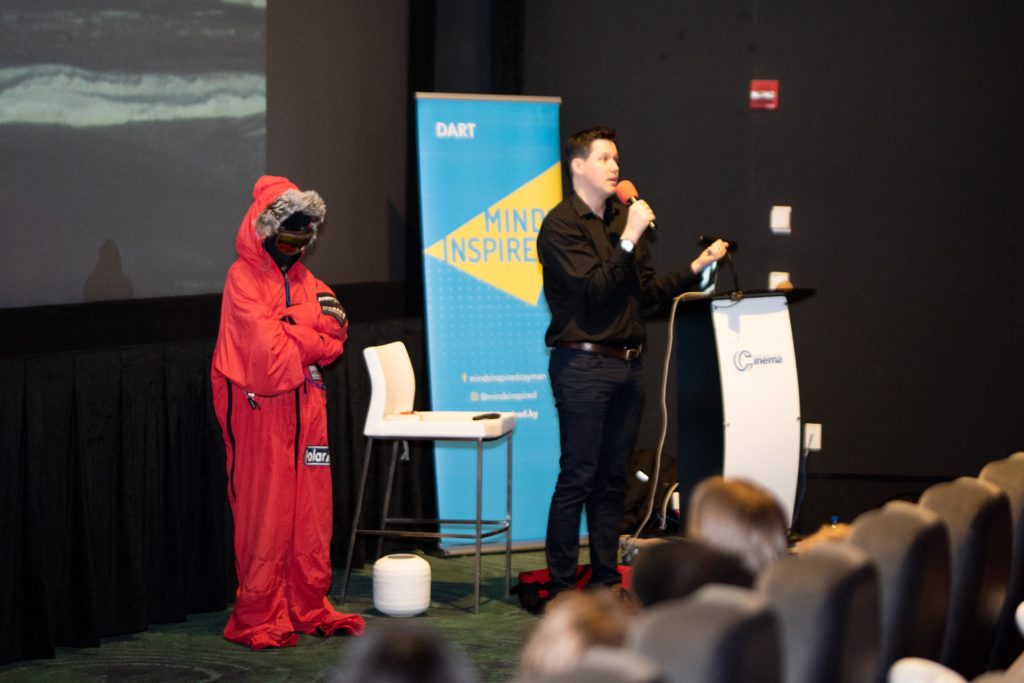 BecomingX Co-Founder Paul Gurney
As part of the event, Gurney interviewed two exceptionally successful female leaders on stage, sharing their own personal success stories in order to demystify what it takes to succeed in alignment with BecomingX's mission. British firefighter, psychologist and writer Dr. Sabrina Cohen-Hatton shared her inspiring story of how she rose from a challenging upbringing to become one of just six female fire chiefs in the United Kingdom. Dr. Sabrina Kay also took the stage to tell her story on how she built her own path in life – after coming to the U.S. from South Korea unable to speak English, Kay went on to become a serial entrepreneur, selling her companies for eight figures.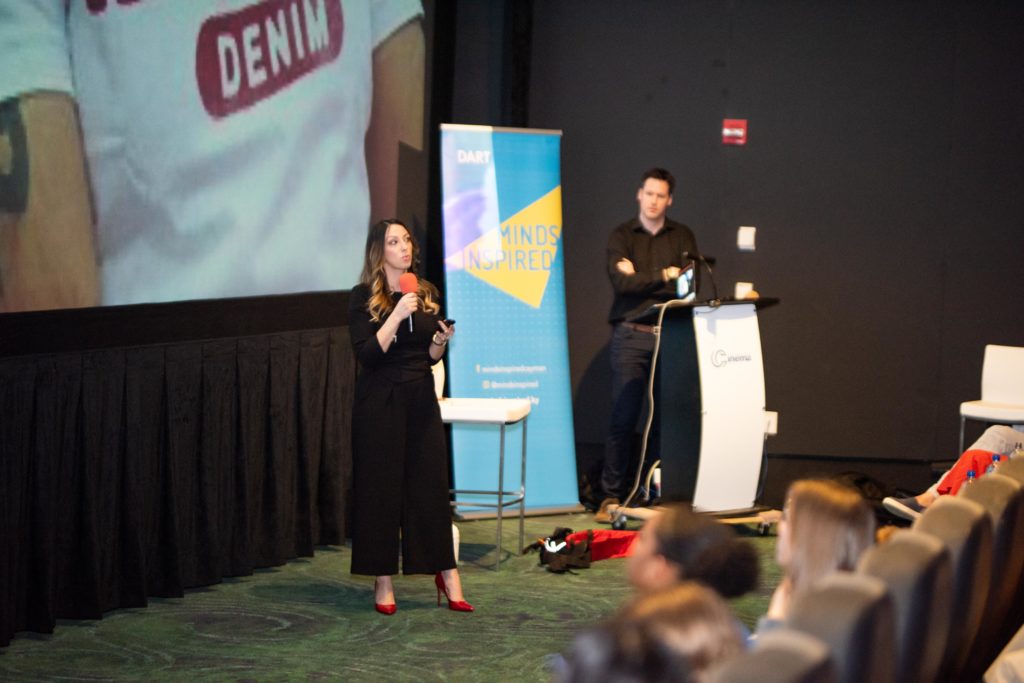 Dr. Sabrina Cohen-Hatton and BecomingX's Paul Gurney
The future is female: A discussion with Geena Davis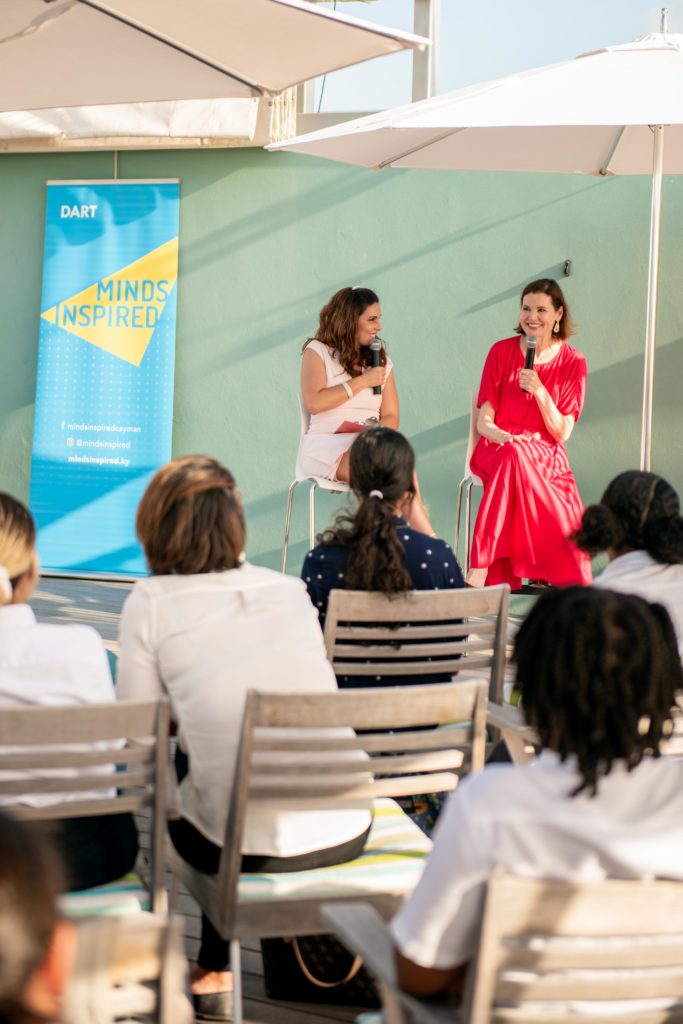 Building on BecomingX's focus on inspiring others to create a world where everyone can realise their true potential, an intimate group of young female leaders from GirlForce 100 and the Dart High School Scholars programme had the privilege of hearing from Academy Award-winning actress and well-known gender equality advocate Geena Davis.
As an activist, Davis has been championing equal representation of women in Hollywood for more than a decade. On screen, Davis is mindful to choose roles that empower women and girls. Off screen, Davis received an honourary Oscar (Jean Hersholt Humanitarian Award) this past year for her commitment to fighting onscreen gender inequality through her nonprofit the Geena Davis Institute on Gender in Media, which is the only organisation working collaboratively within the entertainment industry to engage, educate and influence the creation of gender-balanced onscreen portrayals.
Christina Bodden, a founding member of 100 Women in Finance Cayman Islands and a 100 Women in Finance Global Association Board member, said, "On behalf of GirlForce 100, I would like to offer my sincere gratitude and thanks to CAIS, Dart, and Minds Inspired, for hosting such a memorable session for our GirlForce 100 mentees. Your continued support of these young women furthers our work in developing future female leaders."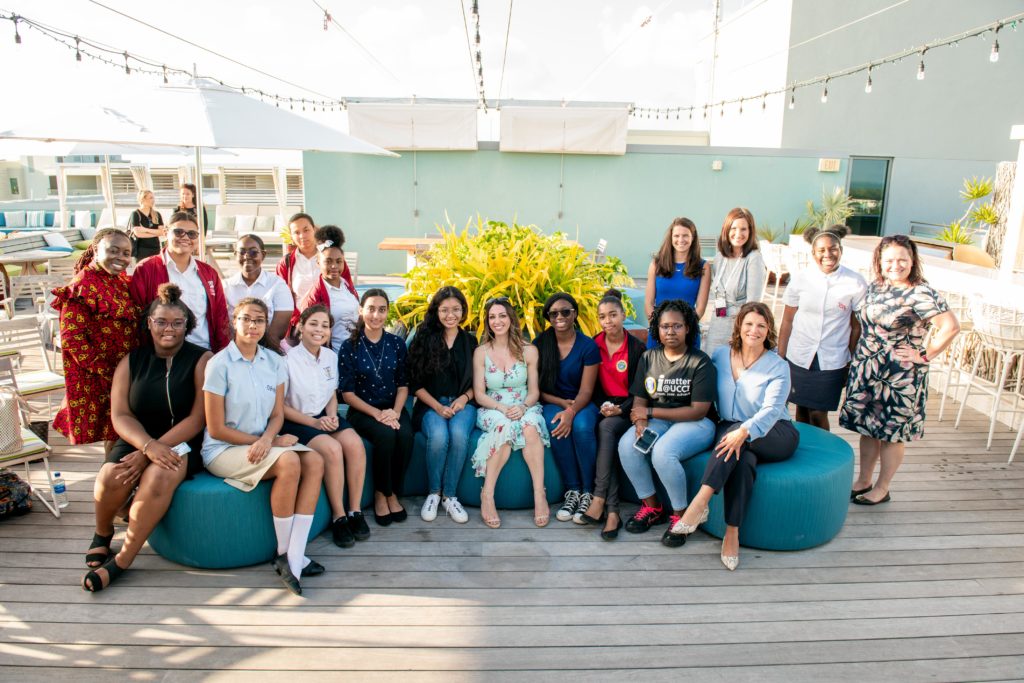 Event attendees, including GirlForce 100, with BecomingX speaker Dr. Sabrina Cohen-Hatton
Davis was interviewed by Tammi Sulliman, Senior Manager News Director at Dart, and tackled questions on body image, gender representation on-screen and how her daughter continues to motivate her advocacy work. Davis' chat with the young women came moments before she took the main stage as the keynote speaker at CAIS20, where gender equality was a front-and-centre issue driven by the conference's commitment to a speaker lineup that was 50 percent female.
"Minds Inspired is proud to continue providing opportunities for our Dart Scholars and local youth to be inspired by, and learn from CAIS's high-profile speakers," said Glenda McTaggart, Senior Manager Education Programmes at Dart. "We are grateful this year to BecomingX founders Bear Grylls and Paul Gurney, their guest Dr. Sabrina Cohen-Hatton, Academy Award-winning actress Geena Davis, and robotics experts Rodney Brooks, Yaro Tenzer and Steve Toebes for sharing their knowledge and meaningful stories with our young people."
While each year CAIS is recognised for the thought-provoking dialogues driven by the onstage speaker commentary on alternative investments, the conversations that happen off the stage with the local community are equally important. As a non-profit event, the value CAIS provides students across the community each year is remarkable. Whether it's Geena Davis and Bear Grylls this year or Will Smith and Natalie Portman in past years, each year CAIS provides the next generation of leaders with access to diverse thoughts and motivational speakers who help inspire them to reach for the next level of success.