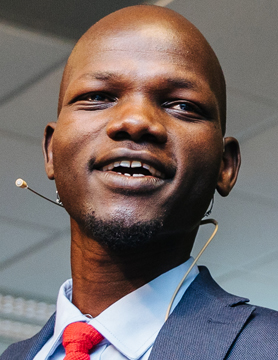 James Thuch-Madhier
Founder & CEO
The Rainmaker Enterprise
James Thuch Madhier is an entrepreneur, a keynote speaker, and Founder & CEO of the Rainmaker Enterprise, an award-winning Toronto-based social enterprise organization driving last mile innovations in East Africa in the water, energy & regenerative agriculture sectors to build healthy, inclusive, peaceful, and regenerative planet.
James works from the high-level, advising global leaders and as a current scientific advisory board member at Grand Challenges Canada, to the grassroots in East Africa, sparking intergenerational leadership and systemic change.
He is a sought-after keynote speaker trusted by globally leading entities to craft and deliver life-changing, and interactive keynotes that inspire bold leadership & systemic change, challenge thinking and accelerate transformative personal and professional growth. From addressing the UN General Assembly on integrated and multipronged approaches to peacebuilding, to addressing the European Commission on strategies for inclusive and sustainable growth in developing markets to addressing business leaders at the social capital markets (SOCAP) on investment opportunities in developing markets, James brings fresh insights informed by both practical and theoretical exposures.
James is originally from South Sudan, where he lived until age 15 before relocating to Kakuma Refugee Camp in northern Kenya fleeing being used as a child soldier during the Sudanese civil war. James' resilience and forward-thinking mindset powered him through the war and forced displacement. Having started his first business at age 10 in war-torn Sudan, James brings the same ingenuity today to developing systemic and innovative solutions to the world's most pressing challenges, including climate change and the resulting water crisis.
For his lifelong commitment to inspiring and leading innovation, collaboration, and systems change through visionary leadership, James has received several awards, including Water Canada's Water Steward of the Year, Regional Finalist of the UN Environment Programme's Young Champions of the Earth Award, the Resolution Project Fellowship, and the European Commission's Future Leader award.
James' work has been featured on numerous media outlets including Toronto Star, CTV's Your Morning, Thrive Magazine, Le Monde, Devex among others.