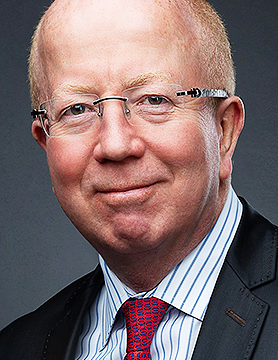 Jim McCaughan
Executive, Asset Manager & Change Agent
Having left Principal in September, Jim has forty years of experience in all aspects of the global asset management business. For most of the last thirty years, Jim has held President and/or Chief Executive titles in the asset management activities of four groups, UBS, PIMCO, Credit Suisse, and most recently Principal.
Between 1978 and 1999, Jim was a successful portfolio manager, with a focus on global equity portfolios. From around 1986, an increasing emphasis was placed on managing investment teams and working directly with clients. So, unusually, Jim has deep experience both as a portfolio manager and in building and overseeing large investment businesses.
Has lead globalization and worldwide growth for both US and European based firms. Has experience doing business in all parts of the world, both the developed world and the growing emerging markets. Frequently quoted in the media about markets and economics, a frequent speaker at leading conferences. Regular appearances world wide on television, including CNBC and Bloomberg from all three time zones. Jim has been a prolific originator of thought capital throughout his career. In the last three years a preoccupation has been the rapid implementation of technology, and how that affects economies and markets.