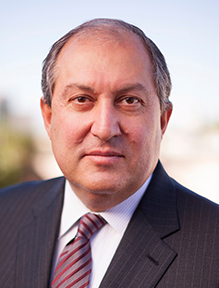 Dr. Armen Sarkissian
Former President
Republic of Armenia
Dr. Armen Sarkissian served as the President of the Republic of Armenia from 2018 to 2022. From 1996 to 1997, he also served as the Prime Minister of the Republic of Armenia. In 1992, Armen Sarkissian was appointed as the Ambassador of the Republic of Armenia to the United Kingdom and simultaneously served as Armenia's Senior Ambassador in Europe.
Between 2000 and 2013, Dr. Sarkissian held various roles in European institutions, think tanks, multinational corporations, Cambridge University, and other universities and foundations. With careers as a Physics professor, a senior diplomat, and a former President and Prime Minister of Armenia, Dr. Armen Sarkissian is well-known as a philanthropist and influential leader. He possesses extensive business and civic networks in major capitals around the world. He chaired a group of global investment companies specializing in energy, real estate, and high technology industries. While deeply involved in humanitarian and charitable projects, he also holds prominent leadership positions in international organizations.
Dr. Sarkissian boasts over 25 years of experience in science and technology, global diplomacy, and international business. He was also one of the co-creators of the Tetris-Wordtris game.