Cayman Alternative Investment Summit 2020 (CAIS20) Announces Commitment to Speaker Gender Equality
December 16, 2019 12:47 pm
|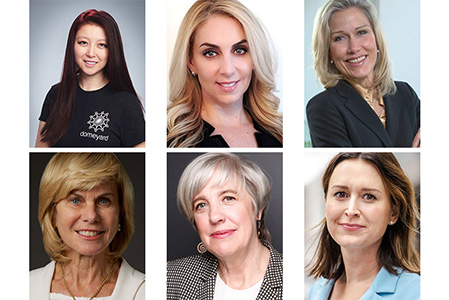 50% of speakers on stage at CAIS20 will be female 
CAIS20 will focus on future of alternatives through "Global. Digital. Responsible." theme
The Cayman Alternative Investment Summit 2020 ("CAIS20") announced today that 50 percent of all speakers appearing on stage at CAIS20 will be women, raising the bar for alternatives industry conferences across the globe going forward. The seventh annual conference is hosted by the Dart Family Office in partnership with RBC and KPMG and will take place on February 6-7, 2020 at the Kimpton Seafire Resort + Spa in Grand Cayman.
Of more than 80 speakers and moderators scheduled to appear on stage throughout the conference, 50 percent will be leading women from across the alternative investment industry. These speakers include Leda Braga, CEO of Systematica; Elaine Crocker, President of Moore Capital Management; Breanne Madigan, Head of Global Institutional Markets at Ripple; Tracy McHale Stuart, Managing Partner & CEO of Corbin Capital Partners; and, Nancy Davis, Founder & CIO, Quadratic Capital Management.
"For the leaders of tomorrow, the future is inclusive, and we believe it is critical for CAIS20 to be consistent with a commitment to gender equality. Having half of our conference speakers be leading women from the industry will further elevate the content at CAIS, which has always been driven by the high caliber and diverse perspectives of our speakers," said Anthony Cowell, Chairman of the CAIS20 Editorial Board and Partner & Head of Asset Management at KPMG in the Cayman Islands. "As one of the leading global alternatives conferences, we hope that other organizations will follow our lead and commit to achieving speaker gender equality at their events."
Focusing on the theme "Global. Digital. Responsible.," CAIS20 will convene more than 500 fund managers, institutional investors, economists and academics for two days of thought-provoking conversations about the future of alternative investing at the intersection of globalization, digitalization and responsible investing. With a wide range of panels and keynote discussions, CAIS20 will cover topics including the future of ESG and sustainable investing, evaluating the dynamics of trade and currency wars, the explosion of alternative data and the use of artificial intelligence.
As one of the preeminent events in the alternatives industry, CAIS20 will welcome an impressive lineup of speakers from across the globe to the stage, including:
Dan Ariely, James B. Duke Professor of Psychology and Behavioral Economics, Duke University
Nisa Amoils, Partner, Grasshopper Capital
Leda Braga, CEO, Systematica
Ian Bremmer, President & Founder, Eurasia Group & GZERO Media
Rodney Brooks, Panasonic Professor of Robotics (emeritus), MIT
Wences Casares, CEO, Xapo
Elaine Crocker, President, Moore Capital Management
Daniel D'Aniello, Co-Founder & Chairman Emeritus, The Carlyle Group
Nancy Davis, Founder & CIO, Quadratic Capital Management
Jeremy Grantham, Co-Founder, GMO
Megan Greene, Senior Fellow, Harvard Kennedy School
Breanne Madigan, Head of Global Institutional Markets, Ripple
Tracy McHale Stuart, Managing Partner & CEO, Corbin Capital Partners
David McKay, President & CEO, RBC
George Mussalli, CIO & Head of Research, Equity, PanAgora
Paul Polman, Co-Founder of Imagine & Former CEO of Unilever
Amanda Pullinger, CEO, 100 Women in Finance
Christina Qi, Founding Partner, Domeyard LP
Deborah Spalding, Co-CIO, Commonfund Asset Management
John Studzinski, Vice Chairman & Managing Director, PIMCO
Maryann Turcke, COO, National Football League (NFL)
Anna-Marie Wascher, Founder & CEO, Flat World Partners
Bonnie Wongtrakool, Global Head of ESG Investments & Portfolio Manager, Western Asset Management
Mark Yusko, Founder, CEO & CIO, Morgan Creek Capital Management
"As we look to where the alternatives industry is heading next, one of the most important issues we expect to drive discussion at CAIS20 is how we can achieve a more sustainable future for coming generations," said Jackie Doak, Dart's President of Business Development and CAIS Editorial Board Member. "Whether we are talking about responsible investing or sustainable development, achieving gender equality and diversity is key, resulting in social and economic benefits for business and for the community at large."
Registration for CAIS20 is now live at cais.ky, with early bird prices available until December 31, 2019. The event is free to attend for all qualified investors and media.
###
About the Cayman Alternative Investment Summit
The Cayman Alternative Investment Summit (CAIS) is an annual non-profit conference that convenes leading thinkers and decision makers from diverse segments of the global alternatives industry to discuss and debate the challenges and opportunities that will define the future of the industry. Hosted by Dart Family Office, CAIS is dedicated to supporting financial services both in the Cayman Islands and internationally. For more information, please visit cais.ky.
About Dart Family Office
Based in the Cayman Islands, the Dart Family Office manages Ken Dart's global investment portfolio. Dart's investments in Cayman range from real estate development, hospitality, retail, entertainment and finance. Guided by the vision of Ken Dart, Dart has developed more than $1.5 billion in mixed-use, residential, commercial, recreational, educational and hospitality properties throughout the Cayman Islands.
Media Contacts
Dart
Anna Wootton
T: +1 345 640 3801
E: Anna.Wootton@dart.ky
Prosek Partners
Kate Sylvester
T: +1 646 818 9127
E: ksylvester@prosek.com
+++