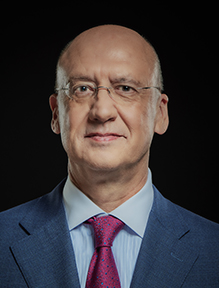 Stephan Crétier
Founder, Chairman and CEO
GardaWorld Security Corporation
Named Entrepreneur of the Decade by Profit Magazine in 2011 as one of eleven remarkable Canadian CEOs, Stephan Crétier is the founder, chairman, president and CEO of GardaWorld Security Corporation, a $5 billion integrated security services provider with more than 132,000 dedicated professionals operating worldwide.
Stephan Crétier founded GardaWorld in 1995 with an investment of $25,000 from a second mortgage on his house and grew it to become one of the largest global security providers. Today, GardaWorld is a renowned global champion not only in security services and cash automation solutions, but also in integrated risk management. Driven by his relentless entrepreneurial spirit, Crétier is always on the lookout for ways to grow his company's reach and showcase Canada's expertise abroad.
He extended his influence within the industry when he became the first Canadian appointed to the Board of Directors of the International Security League (2010-2021). Additionally, he plays an active role as a board member of several organizations, including the Hirshhorn Museum, a Smithsonian institution based in Washington, DC.
Active in the community, Crétier has presided over numerous successful charity events and in December of 2012, he received the Queen Elizabeth II Diamond Jubilee Medal.