What's New at CAIS19
February 7, 2019 9:01 am
|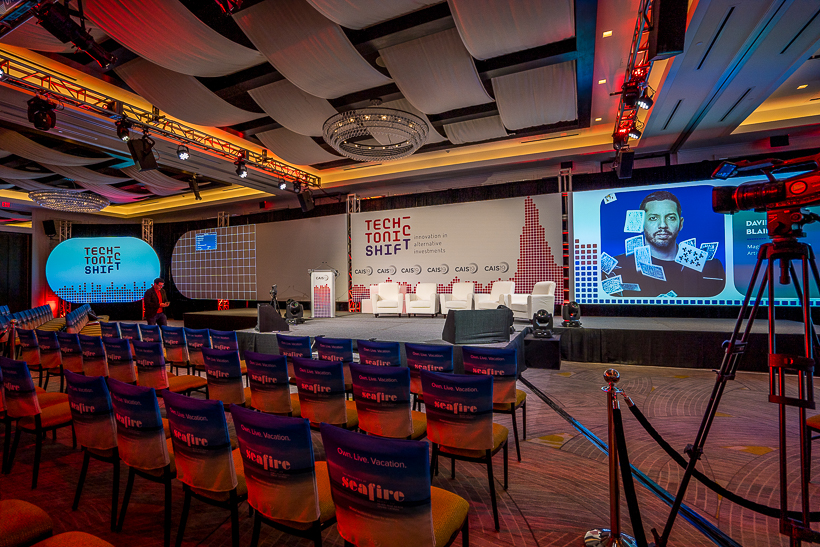 Anyone who's been on the investment conference circuit long enough knows what it's like to experience déjà vu. No matter how much global markets change, we know it can feel like it's always the same speakers, same topics, same food and same entertainment, year after year.
That's why we take a different approach with the annual Cayman Alternative Investment Summit.
We know that people go to conferences to learn something new, meet someone new or do something new. And we are committed to making sure each event offers attendees something new and unexpected. In past years, we have delivered on this promise by welcoming to the CAIS stage a range of topical keynote speakers from NASA astronauts and DEA agents to a racecar driver and a virtual reality expert. All the while, convening executives and political thinkers whose voices and opinions can impact the future of the financial industry. We believe that this diversity of perspectives and topics not only makes for an interesting conference experience, but it also spurs conversations and ideas that would otherwise likely never occur.
So what's in store for CAIS19?
We already talked about our commitment to promoting gender diversity in our speaker lineups, with more than 20 new female speakers from across the alternative investment industry set to take the stage this week. But we have a lot more up our sleeves. Here's a look at five of our special guest speakers.
Natalie Portman
Natalie Portman is undoubtedly one of the most recognizable names in the film industry. She has starred in over 40 films on screen and won an Academy Award for Best Actress in the critically acclaimed film "Black Swan."
But what you may not know is that Portman is also a long-time social activist, and in recent years has become a powerful spokesperson about how to combat inequality in the workplace and empower young women to become leaders. She has also supported several organizations related to promoting women's educational opportunities, economic advancement, health and safety, and full participation in policy formulation and political activity. Her humanitarian efforts led her to become one of the most vocal figures behind the 'Time's Up' movement against sexual harassment. As of December 2018, the organization's legal defense fund has raised more than $22 million and attracted nearly 800 volunteer lawyers, all committed to helping provide legal defense for sexual violence victims.
David Blaine
Alternative investing may seem like magic to some people, but this year we're going to turn the tables on CAIS attendees by giving them a taste of actual magic. David Blaine, a world-famous magician and illusionist, will join us for a fireside chat on the first night of the conference. He will discuss his journey revolutionizing the way magic is experienced and shown on television and will perform live on stage, giving attendees a glimpse into the street magic and feats of endurance that made Blaine a household name.
To get an early taste, check out Blaine's YouTube page where he mystifies everyone from Steph Curry and Dave Chappelle to previous CAIS special guest speakers Will Smith and Arnold Schwarzenegger.
Dr. Beth Healey
Dr. Healey may seem out of place on a tropical island given she spends most of her time in the coldest parts of the world. Her long-time interest in extreme and remote environments like Greenland and the North Pole has led her to work as part of medical and logistical support teams for ski mountaineering expeditions and endurance races around the world. She also overwintered as research MD for the European Space Agency at spaceflight analogue Concordia 'White Mars' where she had to learn to live at -80C with no sunlight for more than 100 days.
Here she is giving a Ted Talk about her research in Antarctica and how her experiences and data can help inform future exploration both on Earth and in deep space.
Dr. Mark Jackson
Quantum computing and string theory are foreign concepts for even many of the most experienced and well-educated technologists. But for Dr. Mark Jackson, it's just a part of the daily job. After receiving his Ph.D. in Theoretical Physics from Columbia University, Dr. Jackson spent 10 years researching superstring theory and cosmology, co-authoring almost 40 technical articles along the way. His lifelong interest in science, and his commitment to advancing public understanding of science, also led him to launch the science crowdfunding platform Fiat Physica and non-profit Science Partnership Fund.
Ben Turner and Leo Pearlman
Ben and Leo are co-founders of Fulwell 73, a television, film and music production company based in London. Their biographies read like a who's who of hit shows and collaborations with entertainment industry heavyweights. The duo, along with co-founders, Gabe Turner and Ben Winston, are perhaps best known as the production company behind James Corden's hit series, 'Carpool Karaoke.'
Ben has directed or produced a long list of films and shows, including the recent Netflix series 'Sunderland 'Til I Die.' He is also an award-winning music director, having worked with One Direction, Little Mix, Olly Murs and Demi Lovato. A wearer of many hats, Ben has worked with many of the biggest names in comedy, including Danny Devito, David Walliams, Keith Lemon, Richard Ayoade and David Schwimmer.
Leo has produced and executive produced multiple hours of television and over 15 theatrically released scripted and documentary feature films. These titles include the likes of Hitsville: the Motown Story" (UMG), "Training Day" (YouTube), "I am Bolt" (Universal Pictures), "The Class of 92" (Universal Pictures), "Sunderland Till I Die" (Netflix), 'One Direction: This is Us" (Sony/Columbia) and many more. His list of projects has enjoyed commercial success across the board and critical acclaim that includes Emmy's, National Film Awards, Brit Awards, International Film Festival appearances and nominations at a number of other prestigious events.